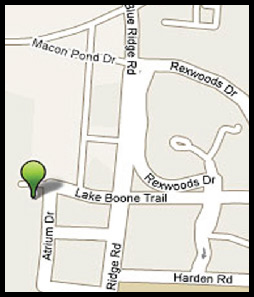 Ideally situated in West Raleigh near Rex Hospital. Conveniently located just off I-440, minutes from Downtown Raleigh, I-40, Research Triangle Park and the airport. Easy access to most areas in the Triangle region.
4601 Lake Boone Trail
Suite 2-E
Raleigh NC 27607-7518
Tel: (919) 781-3978
Fax: (919) 781-4315
Prior to your visit please fill out the attached patient forms and bring to your first appointment.

Download New Patient Forms